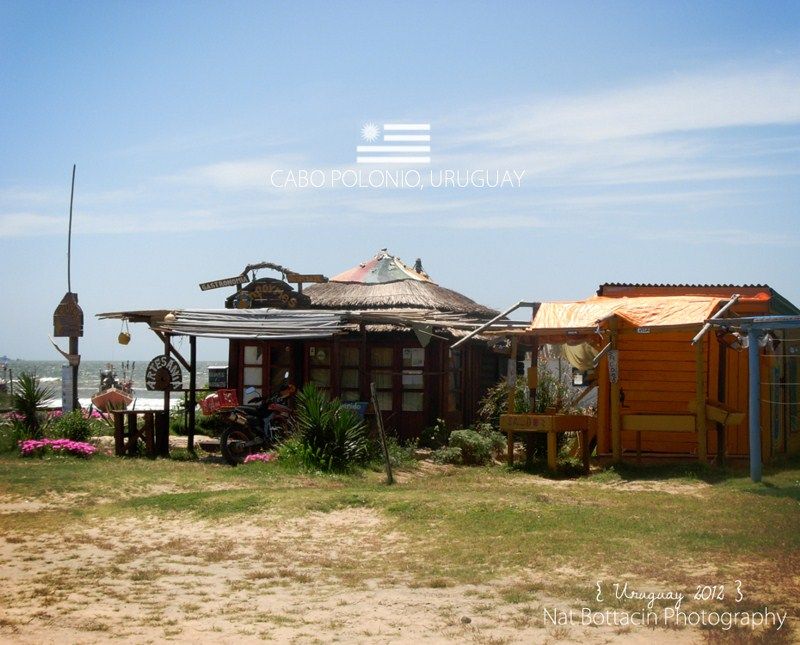 Cabo Polonio is nearly 400 km away from Piriápolis and, as only a few of us wanted to go there, we took the 4 hours ride on a van. I don´t know if it was beacuse I wanted to get there or what, but the car ride was a neverending one! You can´t get to the cape by car or bus. The sand dunes make it impossible to access the region by ordinary transportation. You have to reach a 4x4 wheels station and once you depart this place, there´s still a 30 minutes ride to infamous Cabo Polonio. You rode by very thorny bushes and sand paths and it pretty much feels like riding a rollercoaster because of the irregular sandy formations.
Then, all of the sudden, you leave behind the bushes and your eyes meet this huge beach. Kilometers and kilometers of the most wet and straight sand only disturbed by the occasional dogs footprints that the ocean waves erase quickly.
The truck makes a sharp turn and right there where the sky meets the earth, small houses appear out of nowhere. They get bigger and bigger and more detailed as we get closer and we noticed they are very simple constructions mostly painted in white with colorful roofs. They are built by the rocks and the salty ocean water is only a couple of meters away. We drive around them and then another cape scenario unfolds in front of our eyes. This time, the houses are not built far away from the next one and the mostly white walls are replaced for bright and funky colors. This is the poor and hippy side of the cape. The truck comes to a stop and we found ourself far from civilization (or, at least, that´s how I felt!) surrounded by wooden houses that have no power and the drinkable/usable water is extracted from the deeper layers of the ground. A brand new wooden construction caught my eyes: the "hospital", a very tiny room with a nurse in charge of it.
The cape is full of fishing and martime paraphernalia. Out of its regular population of 60, only two families remain as fishermen. There are fishing nets, boats and different colored flags everywhere.
If you follow a path around a couple of small cottages, through a vast yellow flowered field and a wired fence sporting a battered down sign of the Uruguayan army, you reach the lighthouse (my only main focus on reaching this place). The lighthouse is the only thing that has power. It stands tall and modest with its bright red top. It stands by rocky formations of a soft pinkish (brownish, orangy) color that are constantly hit by the riotous waves coming from the sea...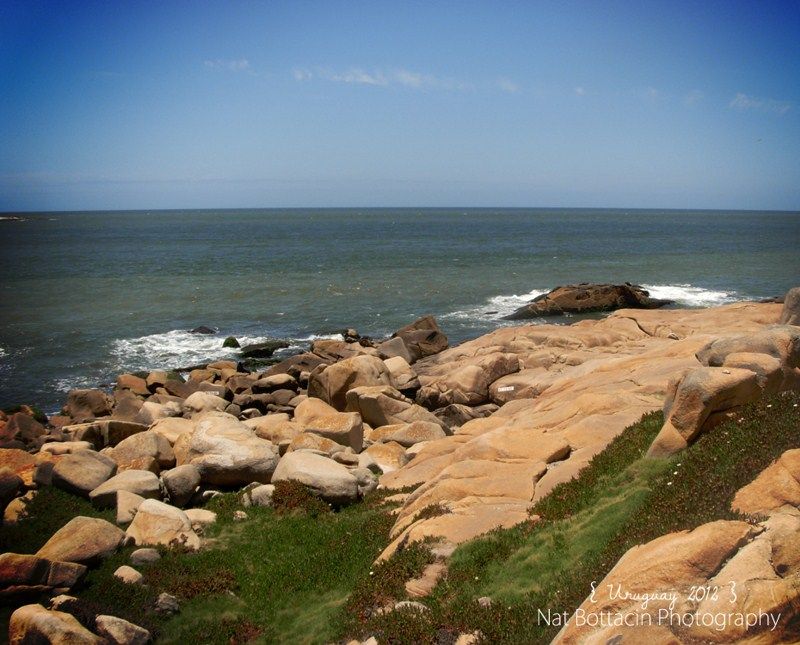 More on my Cabo Polonio´s adventures next week! Stay tuned!